Posted Apr 19, 2023, 2:00 PM By Luke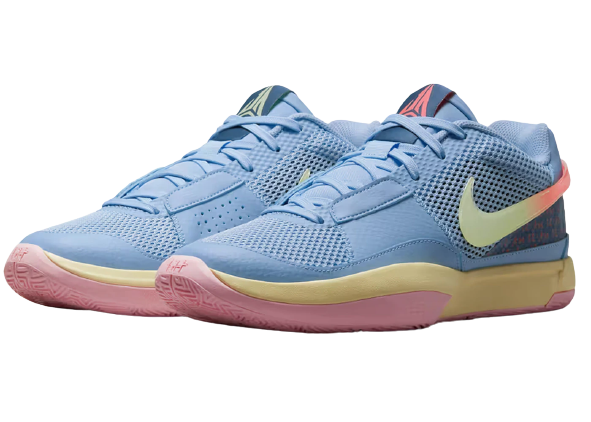 Release Date: April 19th, 2023
Time: 10:00 AM EST
Colorway: Cobalt Bliss/Hot Punch/Medium Soft Pink/Citron Tint
Overview:
The Nike JA 1 "Day One" Basketball Shoes are an exciting new addition to Nike's performance basketball lineup. Combining innovative technology and a sleek design, the JA 1 "Day One" offers both style and functionality for basketball enthusiasts and athletes alike.
Design:
The Nike JA 1 "Day One" features a cutting-edge design that includes a lightweight, synthetic upper with unique overlays, providing support and breathability. The shoe also incorporates a full-length Air Strobel unit and a Zoom Air unit in the forefoot, ensuring responsive cushioning and optimal comfort on the court.
The colorway of the JA 1 "Day One" combines Cobalt Bliss, Hot Punch, Medium Soft Pink, and Citron Tint, resulting in a vibrant and eye-catching design that will stand out on the court.
Availability and Pricing:
The Nike JA 1 "Day One" Basketball Shoes will be available for purchase at select Nike retailers, as well as online through the Nike website and other major sneaker platforms. The release is scheduled for 10:00 AM EST on April 19th, 2023 for a retail price of $110 USD.
Given the innovative design and striking colorway of the Nike JA 1 "Day One," this release is expected to be popular among basketball players and sneaker enthusiasts alike. Consumers are advised to prepare in advance and stay informed about release procedures and availability updates.
Final Thoughts:
The Nike JA 1 "Day One" Basketball Shoes are an ideal choice for those seeking a combination of style, performance, and comfort on the basketball court. With its unique design and eye-catching colorway, this release is a must-have for fans of Nike basketball shoes. Mark your calendars for April 19th, 2023, and be prepared for this highly anticipated release.