Posted May 6, 2023, 9:29 PM By Luke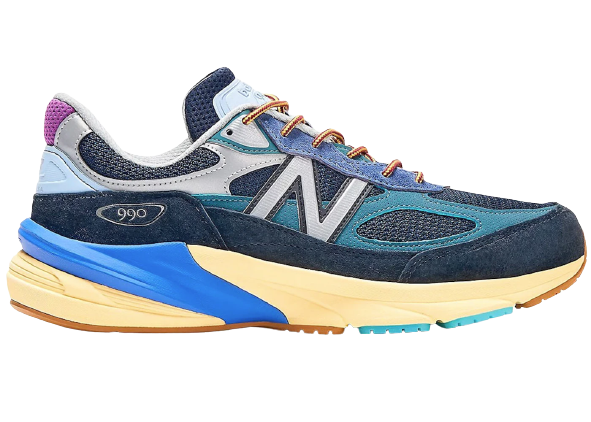 Overview:
The New Balance 990v6 Action Bronson Lapis Lazuli is a highly anticipated release, set for May 6th. With sizes 8+ expected to be the most profitable, this release follows the previous pair that performed extremely well and was highly limited, with the majority of stock available on the SpecializingInLife website.
Design:
Featuring a colorful design, the 990v6 showcases a mesh base with leather and suede overlays in various shades of blue, with hints of purple, tan, and beige. Like the Baklava 990v6s, the Lapis Lazuli model boasts a thick ENCAP midsole infused with FuelCell foam for added cushioning, comfort, and height during wear. The sneakers also include worker boot-style shoelaces, similar to those found on Timberland boots.
Branding:
Dual branding appears on the tongue and insole, with the silver "N" logo adorning the upper and other traditional New Balance motifs placed throughout the shoe.
Availability:
These sneakers will be released on May 6th, so be sure to keep an eye out for them if you're interested.
Current Market:
The retail price is set at $220, with resale prices ranging from $300 to $500, making them a great investment, especially in sizes 8 and up.
Final Thoughts:
The New Balance 990v6 Action Bronson Lapis Lazuli is a promising release, with a vibrant design and potential for profit. If you're considering copping a pair, don't miss out on the May 6th release date.