Posted May 4, 2023, 9:15 PM By Luke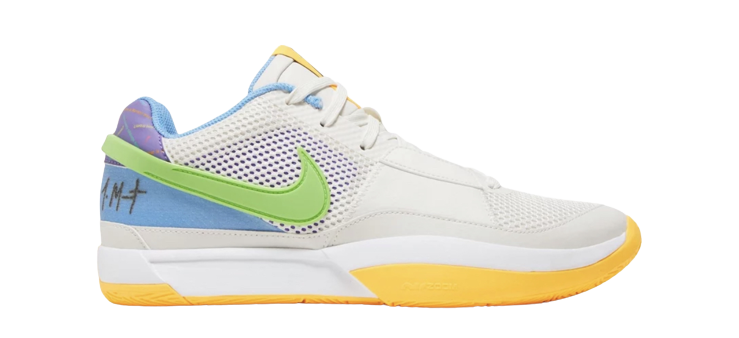 Release Date: May 4th
Retail Price: $110
Resell Price: $150-200
Overview:
The upcoming Nike Ja 1 Trivia presents an opportunity for profit due to its low retail price. Its previous model experienced a significant price increase after its release, and this edition might follow suit. However, there is some risk involved with this release.
Design:
This "Trivia"-themed colorway features a blend of "Phantom," "Action Green," "Grape," and "White" hues. The design incorporates trivia-style questions on the upper heel and sockliner, as a tribute to Morant's family game nights. The tongue labels and outsoles are accentuated with vibrant gold tones, creating an eye-catching contrast for this low-top basketball shoe.
Availability:
The Nike Ja 1 Trivia will be released on May 4th at select retailers.
Current Market:
The current resell price for the Nike Ja 1 Trivia is expected to range between $150 and $200.
Final Thoughts:
Although the Nike Ja 1 Trivia presents an opportunity for profit, it's important to consider the potential risks involved. While the previous model experienced a price increase post-release, there is no guarantee that this edition will follow the same pattern. Keep an eye on this release, but be prepared for any inherent risks.